Email Security
Protect against advanced threats like business email compromise and credential phishing.
---
OVERVIEW
Automatically investigate and remediate attacks
Our cloud-based email security service helps protect your organization against advanced threats to email and collaboration tools, like phishing, email compromise, and malware attacks. The service provides investigation, hunting, and remediation capabilities allowing security teams to more efficiently identify, prioritize, investigate, and respond to threats.
APPROACH
Gain a holistic view of threat protection
Secure your organization throughout the lifecycle of an attack.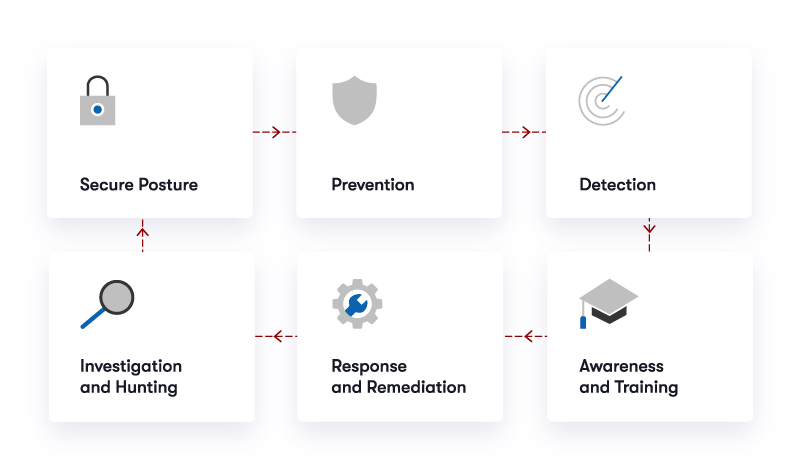 CAPABILITIES
Integrated threat protection
Secure your business with a comprehensive slate of capabilities across prevention, detection, investigation and hunting, response and remediation, awareness and training, and secure posture.
Prevent a wide range of volume-based and targeted attacks including ransomware, business email compromise, credential phishing, and advanced malware with the help of a robust filtering stack.
Utilize industry-leading AI to detect malicious and suspicious content and to correlate attack patterns to identify campaigns designed to evade protection.
3
Investigation and Hunting
Track attacks with advanced hunting capabilities that help identify, prioritize, and investigate threats.
4
Response and Remediation
Amplify your security team's efficiency and effectiveness with extensive incident response and automation capabilities.
Build user awareness with in-depth training and simulation capabilities along with integrated experiences within client apps.
Use recommended templates and configuration insights to help your organization get and stay secure.
FEATURES
Safeguard against malicious threats posed by email messages, links (URLs) and collaboration tools